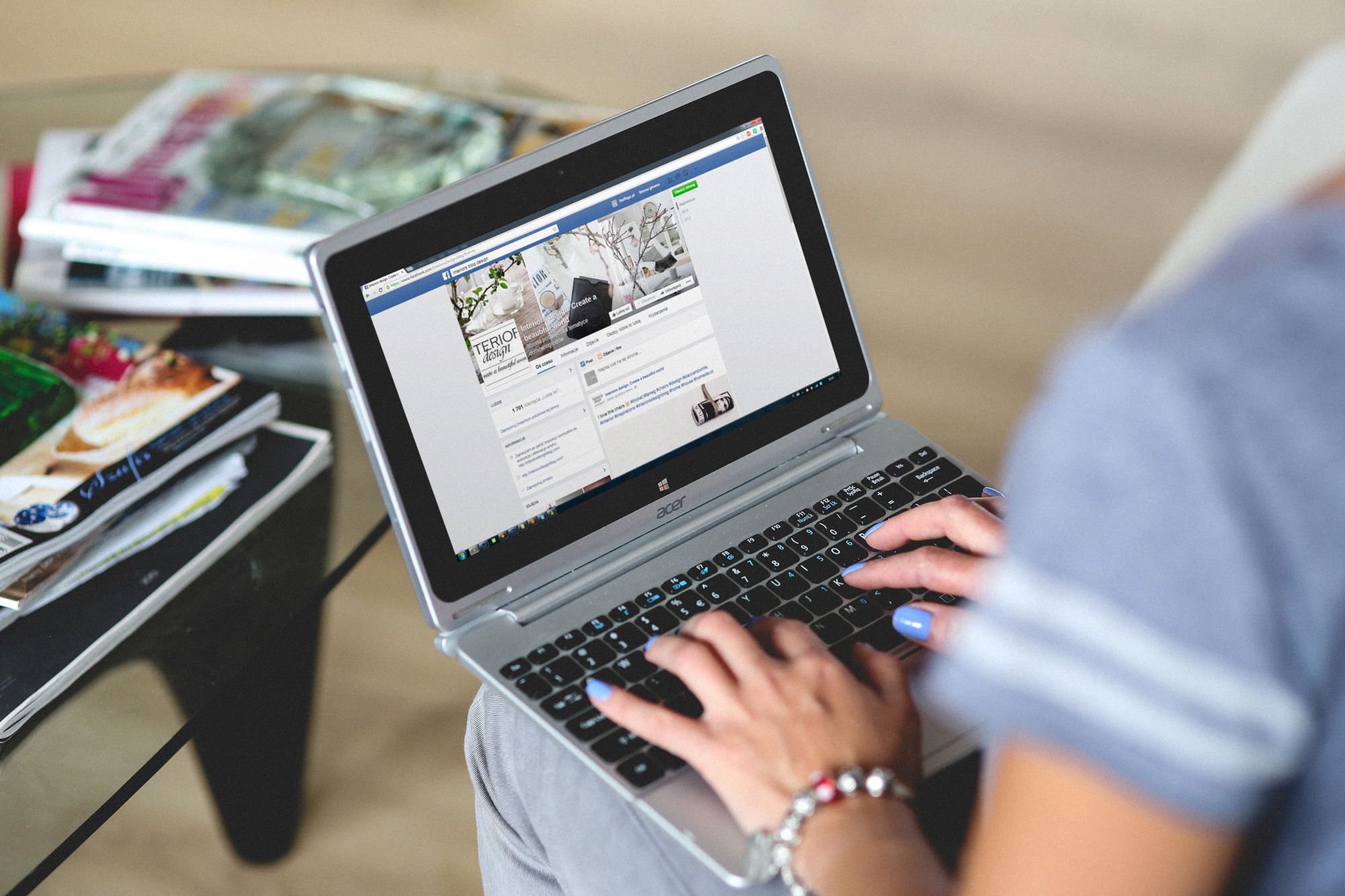 While other social networks come and go, Facebook marketing is still a must-do for brands.
Food for thought: Facebook accounts for a staggering 71% of all social media site visits online. Sure, platforms like Instagram or TikTok are booming right now. But Facebook often represents the central "hub" of any given business on social media. 
Between its massively engaged user base and in-depth ad platform, there's arguably no better place online to grow a community and sell directly to your target audience.
That said, there are so many moving pieces of Facebook marketing if you want to grow your presence. In this guide, we'll break down the essential steps of building a Facebook for business.
How to Optimize Your Facebook Business Page
For starters, consider what you can do to build a Facebook Page that grabs your audience's attention from the word "go." The steps below represent the foundation of your Facebook presence before publishing content.
Start with a Stylish Profile Picture and Cover Photo
With so many Facebook Pages competing for your customers' eyeballs, a few small creative choices can go a long way.
Consider your profile and cover photos. With size limits of 128×128 pixels and 640×360 pixels on smartphones, you need images that reel in visitors while also looking clear on mobile screens.
Minimalist logos and headshots are a safe bet for your profile photo. As far as cover photos go, brands might use a slogan or picture of their products and services in action. 
For example, lululemon's profile photo is bright and bold, while their cover photo scores serious style points.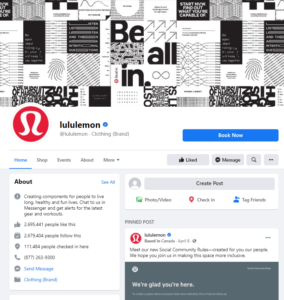 Meanwhile, Yoga with Adriene uses her cover photo as a place to highlight her community in action. See how that works?

Encourage Your Visitors to Click with an On-Page Call-to-Action
Remember: one of the key goals of Facebook for business is to acquire new customers.
With the help of a call-to-action button, you can align your Facebook Page with your company's objectives. For example, you can encourage someone to download an ebook or book an appointment directly from Facebook. 
Call-to-action buttons are compelling on mobile where they're pretty much can't-miss (see below).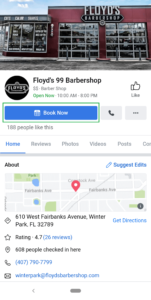 Don't let this space go to waste! You have plenty of flexibility in terms of what your CTA can ask of customers, including:
"Book Now"

"Call Now"

"Send a Message"

"Learn More"

"Request Time"

"Download"
Set Up Your Messenger to Engage New Customers Around-the-Clock
Keep in mind that your company's Facebook Page might be someone's first encounter with your business.
Anything you can do to answer your potential customers' questions ASAP is a plus. By setting up responses in Facebook Messenger, you can handle concerns 24 hours a day without having to be there in real-time.
For example, Facebook lets you set up automated responses to frequently asked questions as soon as someone lands on your Page.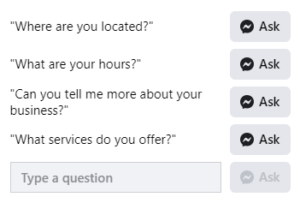 The chatbot capabilities of Messenger are surprisingly powerful (see below). If nothing else, having Messenger FAQs set up is an excellent way to give new visitors some peace of mind and let them know that you care about their concerns.

Completely Fill Out Your Business' Service Information 
This tip is especially important if you're a small or local business.
If you want to increase your Facebook Page's visibility in search engines, make sure to fill out your "About" and service sections fully. 
We see more and more Facebook Pages pop up in Google searches for any given business or brand name.

Sprinkling in relevant keyword phrases and terms in your Facebook Page copy is a subtle but significant way to attract Facebook and search engines traffic. 
"What Should My Facebook Content Strategy Look Like?"
The good news is that you have tons of creative freedom and flexibility in terms of what you publish as part of your Facebook marketing strategy. Ideally, you should publish various posts and content types to keep your feed fresh (and your audience engaged).
Your content strategy should be a variety of different types of posts, not just the same things over and over.
Text-based Posts
Text-based updates can be surprisingly effective at reeling in Likes, either by themselves or as captions to preview your links (think to blog posts). Don't be afraid to "talk" to your audience via storytelling or simple messages. Some simple examples of text-based posts include:
Asking questions

Making announcements

Memes and jokes (see below)

Photo Posts
These should be your bread and butter. Photo-based posts typically perform well on Facebook and are attention-grabbing by nature. Some basic ideas for photo-based posts include:
Customer photos

Photos of you and your team behind the scenes

Pictures of your products and services in action

Memes

Tips and infographics

Video Posts
Facebook themselves are adamant that video-based content should be a priority for brands. Given that video is favored by the platform's algorithm, you should ideally be producing it in some way, shape, or form. This includes:
How-tos and tutorials

Facebook Live (think: coverage, events, Q&A sessions)

Short, looping videos (think: TikTok-style)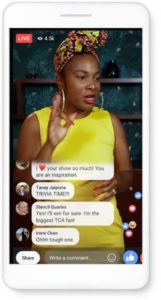 Note that the average Facebook user will watch mobile video with no sound on, so keep that in mind when it comes to captions (thankfully, automated captions are now available).
Beyond the content types above, keep in mind that it's easier (and more common) than ever for brands to cross-post their content from other networks like Instagram, Twitter, or Pinterest. That said, make sure that you customize your captions for Facebook if you're doing this. For example, don't needlessly stuff your posts with hashtags because they are relevant to Facebook marketing anymore. 
How to Promote Your Facebook Page and Content
Now that we've outlined a basic content strategy, let's talk about ways to promote your content and Page based on what we know about the Facebook algorithm. 
In short, the algorithm determines which pieces of content get seen by Facebook users and how much reach any given post gets. Reach is largely influenced by engagement and interactions. Below are some strategies to encourage more engagement and drive additional traffic to your Page to grow your following.
Make Sure You Point Existing Customers to Your Facebook Page
Not all Facebook marketing happens on Facebook.
Consider how you can funnel your existing audience to Facebook, who perhaps hasn't Liked your Page yet. For example, you can:
Promote your Facebook presence on other social networks (think: Instagram, Twitter, Pinterest)

Include your Facebook Page as part of your website header or footer (see below)

Mention your Facebook Page in your marketing emails

Use Facebook Stories to Highlight Your Latest Content
Through Facebook Stories, you can put your business' Page front-and-center in your followers' feeds. Stories are a prime way to promote your newest posts and remind people to check out your Page.

Regularly Engage with Comments and Questions
Not only is engaging with comments a cornerstone of customer service: it's also a great way to get more reach and eyes on your posts. Pay close attention to your notifications and never let a direct question go unanswered.

Encourage Third-Party Engagement Beyond Your Own Facebook Page
Reality check: not everything you post is going to be a winner. Likewise, not everyone that follows your Page is going to see your content consistently.
Facebook Pages are limited in terms of how many people they can reach, plain and simple. This is part of why building communities through Facebook Groups is so popular. Doing so requires a lot of legwork but can be worthwhile in the long run for getting eyes on your Page.
This also explains the popularity of Facebook influencer marketing. By partnering with Facebook influencers with established followings, you can introduce your business to a new target audience. The upside of working with influencers is that they have a proven track record of engagement (hint: IZEA can help hook you up with the right influencers in a snap).
Use Facebook Creator Studio to Schedule and Publish Content
Timing is an essential piece of your Facebook marketing.
This rings true not only in terms of how often you should post but also when.
According to research from Buffer, weekday afternoons are among the best times to post on Facebook. Posting daily or near-daily is common practice among both larger brand pages and small businesses alike.
Built-in tools like Facebook Creator Studio allow you to schedule your posts without using a third-party app. Through scheduling, you can streamline your Facebook marketing, minus feeling the pressure of publishing in real-time. Queuing up posts is a huge time-saver and gives you more time to interact with your audience.
How to Build a Facebook Advertising Strategy
Advertising on Facebook has become the norm, with the platform boasting over 10 million active advertisers. From eCommerce giants to small business users, Facebook ads can result in a massive return on investment for brands that get them right. 
That said, running Facebook ads requires a commitment in terms of your time and resources. Facebook does a lot of hand-holding to help you increase the likelihood that your campaigns will succeed, but here are some basic considerations for brands running ads.
Determine Your Facebook Ad Goals
First thing's first: what do you want to get out of your ads? Facebook allows you to create ads and center campaigns around goals related to:
Awareness, introducing your brand to people for the first time

Consideration, for those who've shown 

some

 level of interest in your brand or product

Conversion, turning interested shoppers into actual customers
There are tons of Facebook ad success stories across all industries that have achieved these goals and then some. Picking a goal helps you hone in your campaigns and keeps you from running ads "just because."
Pick an Eye-Popping Ad Format
Facebook doesn't skimp on ad creatives that help you stand out in someone's news feed.
Carousels and product slideshows. Videos. Stories ads. You name it.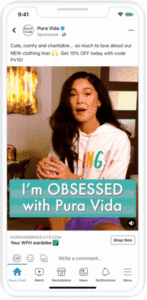 We recommend checking out the Facebook ad library for inspiration. There you can see real-time ads being run by brands for an idea of what formats are popular for your industry.

Research Your Target Audience on Facebook
Facebook's ad targeting is seriously powerful. You can zero in on a particular target audience from demographics to interests and geography to ensure that your ad dollars go far. 
Chances are you have an idea of who you want to attract in terms of your customers. With data directly from Facebook, you can confirm that your audience and ad demographics match up.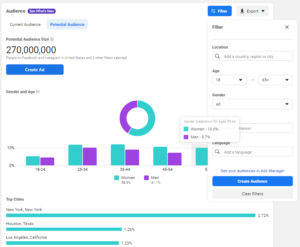 And speaking data, that leads us to our final section!
Measuring Your Facebook Marketing Results via Analytics
Analytics are central to any Facebook marketing campaign.
What's working and what isn't? Which posts are moving the needle? Are my campaigns actually resulting in engagement?
You should regularly assess your Facebook analytics. You can use either Facebook Insights (now Audience Insights) or Creator Studio to evaluate key metrics and KPIs. The platform makes it a cinch to understand what's driving engagement and where you can improve from daily dashboards to weekly trends.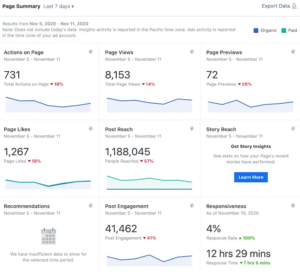 And finally, make sure you keep track of how your Facebook traffic behaves once it lands on your site. 

For example, how long do your Facebook visitors spend on any given page? Which pieces of content do they like? You can use Facebook's own Google Analytics link builder to track these points directly.
Have You Made Facebook Marketing a Priority for Your Brand?
We get it: there's a lot that goes into Facebook for business.
You're way ahead of the curve by paying attention to the details above and coming up with a strategy.
The tips above should give you a solid foundation for your Facebook Page and a starting point to experiment with your content. By tracking your results and consistently publishing, you can fine-tune your campaigns over time.