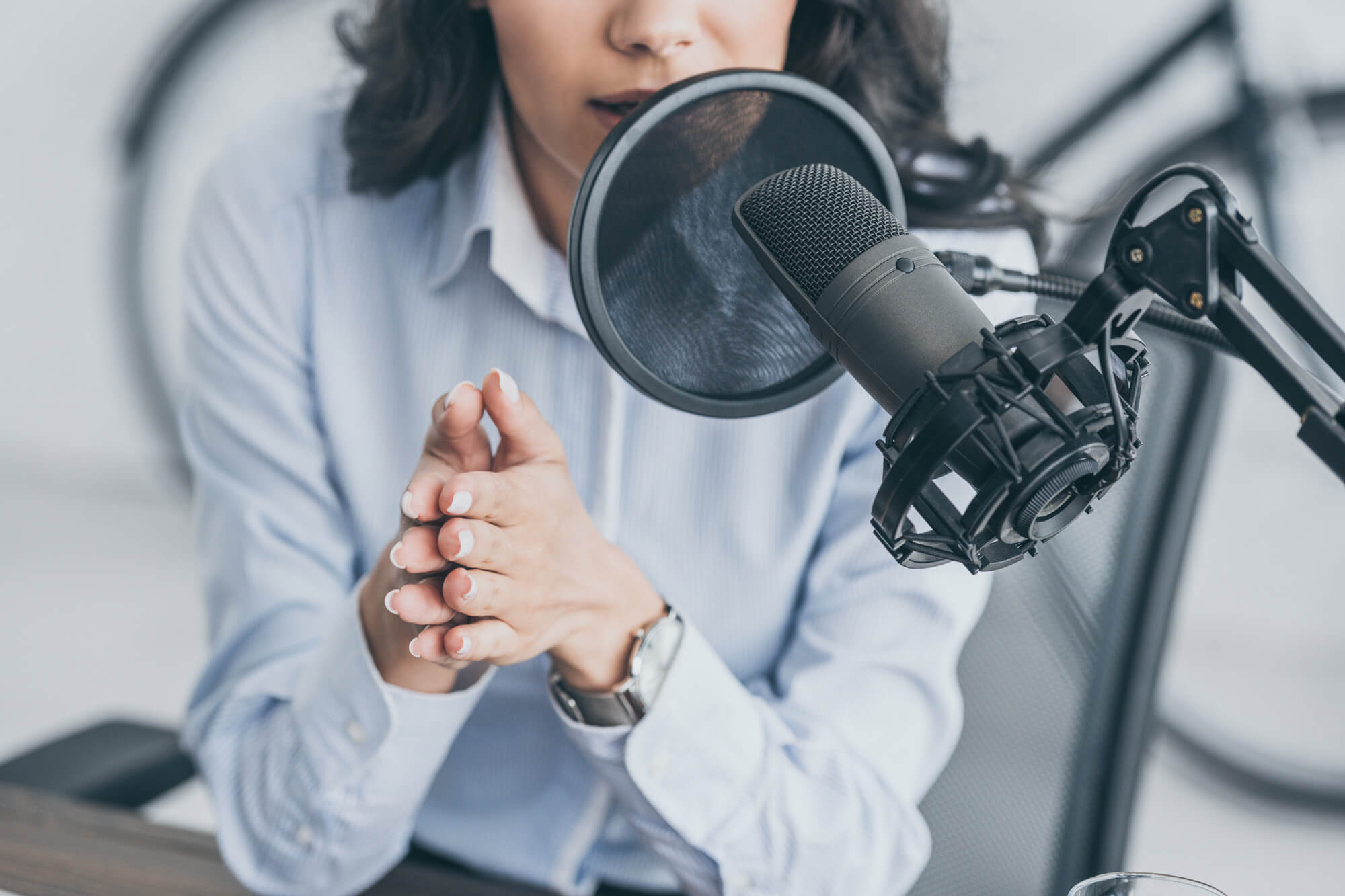 If it feels like everyone is starting a podcast, you're not wrong. There are currently 2 million podcasts out there, with a whopping 48 million episodes, according to PodcastInsights. Celebrities like Bill Gates, Russell Brand, Dax Shepard, Michelle Obama, and Kate Hudson all have podcasts. But, it's not just celebrities who are leaning into the microphone. More brands are following suit. 
Slack, GE, Shopify, Sephora, and ZipRecruiter have podcasts that are growing like wildfire. Your brand could be next. If you're ready to deploy a podcast in your content marketing strategy, here's where to start: 
Get organized
A podcast takes work. Before you launch one, you need to answer the following:
What will your podcast be about?
Branded podcasts generally tie back to the company's product or service. Slack, for example, offers a business-focused messaging service. Its podcast, The Slack Variety Pack, tells stories of successful businesses, with a focus on collaboration and communication. What's a logical focus for your brand podcast?  
What will you call your podcast?
The podcast needs a name. Most branded podcasts include the company name in it, so keep that in mind during your brainstorming sessions.
What's your format?
Start thinking about logistics. Do you plan to bring on guest speakers? How long will each show be? Will there be more than one host? (Some brands rotate hosts to include a little diversity and share the recording load). How often will you release a podcast? 
Can you come up with 30 episode titles?
Take a minute and list 30 episode titles and guest speakers, if you plan to include them. This exercise is meant to ensure the topic you pick can go the distance. If you get stuck with only five ideas, you may need to broaden your approach.
Pre-podcast to-do list
You have an idea for a podcast; now you need to build marketing assets and set up the technical side of the podcast. 
Create artwork and music 
The podcast needs its own look. Work with the company's graphic designers to create a template, something with consistent elements like the show name and brand colors, but with rotating episode titles.
You'll need similar artwork for promotional purposes, too, so get social cards ready for each channel and an email banner to include in an announcement message. You'll need some podcast music as well. Check sites like Shutterstock or Envato Elements for tracks. 
Buy podcast equipment and set up your studio
Look online for a podcast kit that includes a microphone, an arm, and a shock mount. You want something that's of good quality, but that's simply to use. Ideally the microphone plugs into a laptop via USB. You'll also need podcasting software. This is where you'll record your podcast and make edits. GarageBand or Squadcast are good options.
You'll also need a room to record. To start, even a small closet space can work. If you plan to bring in guests at some point, the overall look of the "studio" will be more important. 
Set up a podcast hosting service
Just like a website needs a web host, a podcast needs a podcasting host. You'll upload your podcast audio to the host, and it distributes your show to places like Apple and Spotify. Podbean and BuzzSprout are common hosting services. 
Record, release and market
You're ready to start recording. Here are your next steps:
Record your podcast
Think through your episode. What's its purpose? What do you want the audience to learn? Make some notes or even create a show outline to follow. Then, start recording. Remember, you're not live. You can always go back and edit out mistakes. 
Release your podcast
Upload your podcast to your hosting service to share it with the world. 
Market your podcast
Like any piece of content, you need an audience to consume it. Market your podcast like you would a new product launch. Build some hype, make the launch a big deal and share the link with everyone. More specific marketing tips include:
Create social graphics that promote the launch and ask every employee to share them.

Send an email to your subscribers with a link to the podcast.

Share a small snippet of audio on social as a teaser.

Generate intrigue. Ask fans on social what they'd like to learn on your podcast.

Write several

blog posts

about the podcast. 

Mail a postcard to your audience that introduces your new show. 

Work with a handful of influencers to promote the podcast. 
Plan for the long haul
To keep producing top-notch podcasts, here are some tips for longevity:
Create a content calendar
You probably already have a content calendar for things like blog posts and emails, so be sure to add podcasts to your calendar. Be specific. List the episode name on the calendar. 
Plan guests
If you plan to include guest speakers, you'll need to set these up in advance. If your studio isn't quite guest-ready, you can record the interview on Skype or Zoom and import the audio into your podcasting software to work with. 
Set an achievable pace
Realistically, how many podcasts can you produce each month with your current workload? This all depends on a company's resources, but don't overcommit. You can always start with two podcasts a month and increase the frequency if you see a ROI from the content. 
Get ahead
As you do with other marketing tasks, like blog articles or social media posts, it's a good idea to get ahead. Ideally, you'll always stay one month ahead of your schedule. It gives you some wiggle room if guests cancel or you get sick. 
There you have it — all the steps you need to add a podcast to your content marketing strategy.