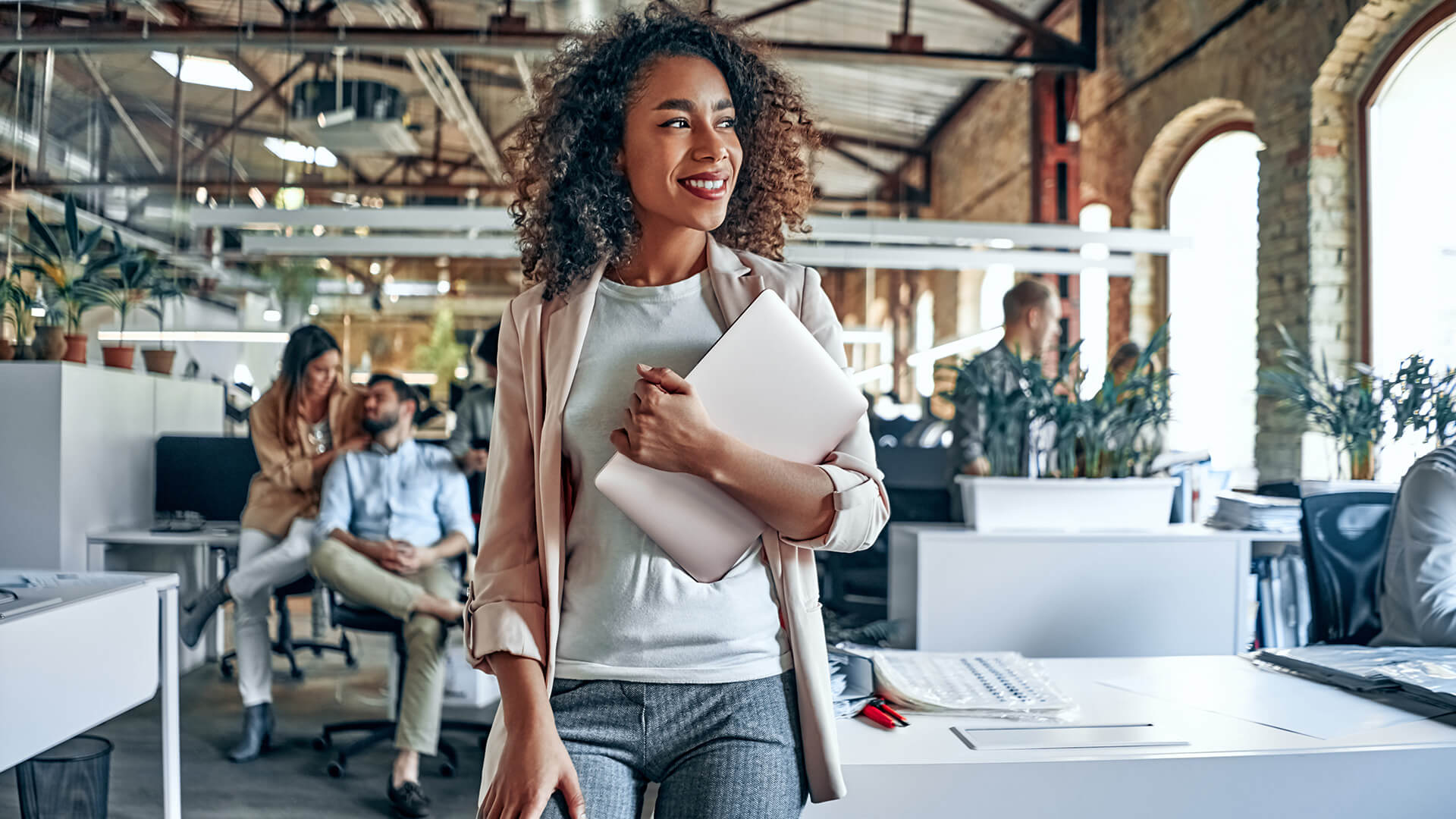 Every marketing tactic grows and evolves, and that includes content marketing. To stay ahead, marketing teams constantly evaluate what works and what doesn't. While evaluating internal metrics is crucial, it helps to know what other marketers are investing in to stay current. 
The chart below shows which areas of content marketing are a priority, according to research from Insider Intelligence.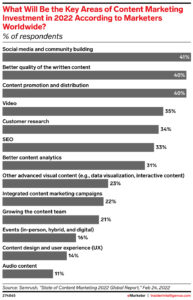 Social media and community building
Marketers aren't just looking to fuel their social media train with regular posts, they're working to build a community. Forty-one percent of marketers plan to invest in this strategy, according to the chart above. They want to see customers engage with the content, not just through likes and shares, but through conversation. 
How do brands go about doing that? Here are some suggestions:
Answer questions on social media.

Work with an influencer on a Q&A that focuses on your product.

Host giveaways that require engagement activities for participation.

Share user-generated content from fans.

Highlight your most loyal followers.
Want to explore a few examples? 
Skin Resource.MD worked with beauty influencer Jessica Violent on a Q&A. The brand sent Jessica a list of questions about herself and her favorite Skin Resource.MD products. The result is a great piece of content that offers an authentic take on common skincare challenges and how the brand can help. 
Better quality of written content
How well-written are your blogs? How about your social posts? Your brand is competing against many, many pieces of content, which means quality is even more important. 
As a result, 40% of marketers plan to up their writing game, according to the chart above from Insider Intelligence. 
If you're looking for better quality, it might be time to connect with a professional content marketing service. By hiring a team to take over the production of your blog, you know you'll have fresh, high-quality content published regularly.
You could also consider connecting with an influencer in your industry's niche. More specifically, look for an influencer with writing experience and a strong blog. Test the waters with a one-time blog post that's written by the influencer, shared on their blog and promoted socially. If it goes well, you could convert influencers to brand ambassadors who take on a more consistent role. 
Campus Philly, an organization dedicated to retaining college graduates in Philadelphia, works with a team of college ambassadors who write content for the site. 
Ambassadors write about everything from thrifty shopping to tips on the best date night in the city.
Content promotion and distribution
To get more people to see your content, 40% of marketers will put more money toward promotion and distribution, according to the Insider Intelligence chart. 
It's not uncommon for brands to fall into a rut, promoting and distributing content similarly for years. It's time to shake things up a bit. To do so, here's a list of ways to break your normal routine:
Add links to fresh content in your email signatures.

Ask your employees to share content.

Use content in your customer journey.

Consider boosting your content with social ads.

Send a newsletter.

Join groups on social media and share relevant content. 

Repurpose content and cross-promote it.
Cisco has some great examples of content sprinkled throughout its customer journey. For instance, In the discovery phase, customers can read a white paper that explains how important it is to have data security services — a service Cisco specializes in.
Investing in content marketing is a wise choice, but it's important to dedicate dollars to specific techniques. The data above gives you an idea of how marketers as a whole are investing, but of course, brands should evaluate their tactics.