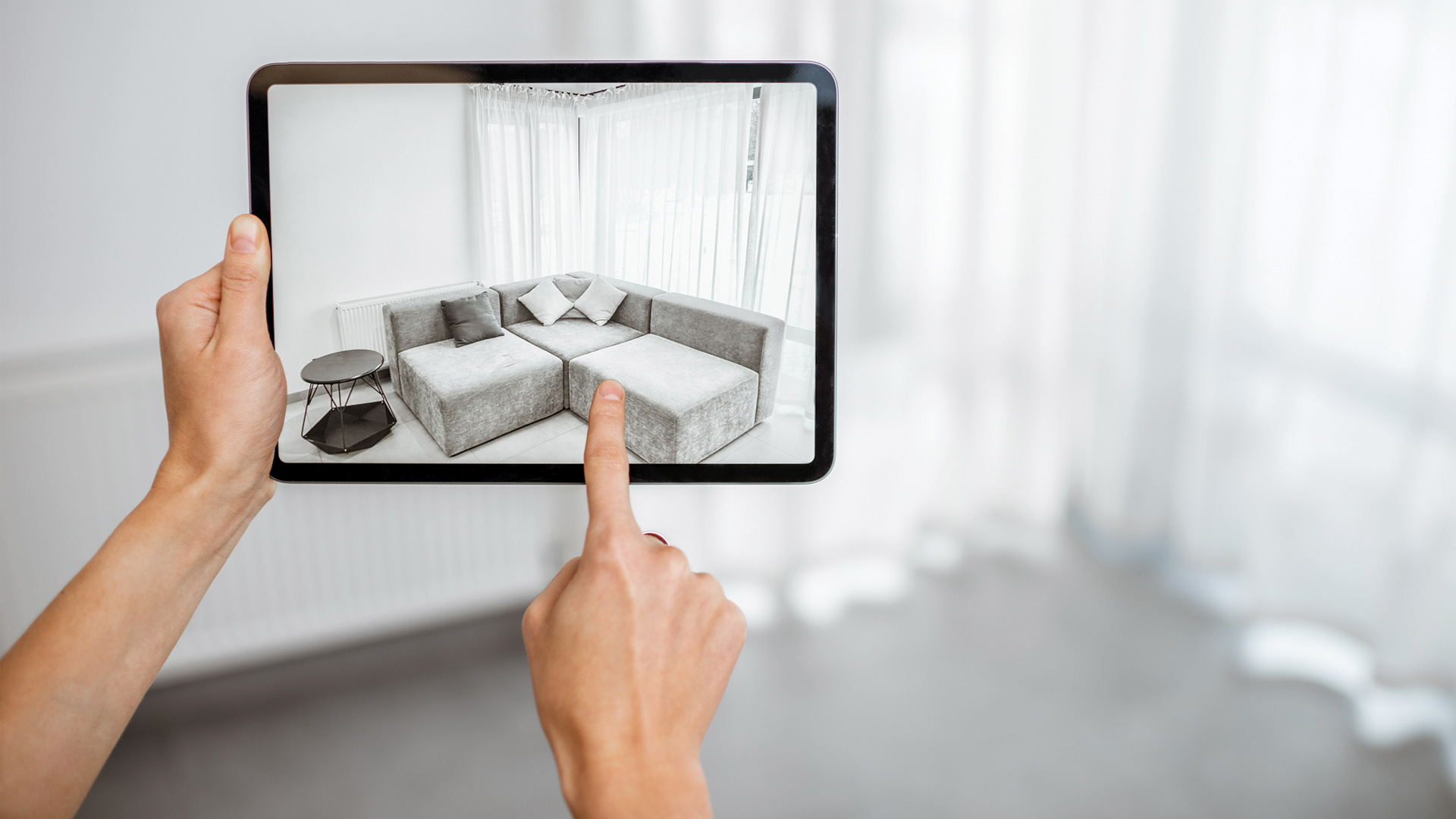 Pinterest is the place to go for home decorating ideas. In fact, it's one of the most popular categories on the site with 9 out of 10 pinners searching for home decor inspiration. Pinners browse color palettes, furniture ideas, and themed concepts for various rooms. 
To help people visualize products in their own homes, Pinterest has launched a new AR tool, Try On for Home Decor. 
How does Pinterest's Try On for Home Decor work?
Using your camera, you can see how a particular item looks in your space. 
Looking for a new chair? Find one you like on Pinterest and click Try In Your Space. Point your camera at the intended spot and watch the item drop into the area. You can even turn the item 360 degrees to put it exactly where you want.  
If you'd like to buy it, you simply click on the item and you'll go straight to the retailer's checkout page.  
Here's how it works:
Why is the Pinterest Try-On Home Decor feature so popular? 
Consumers love this new feature for a few different reasons. For starters, seeing a new piece of furniture in its planned space offers reassurance. You don't have to wonder if it will stick out too much or clash with other pieces in the room. 
The features also streamlines the buying process. Shoppers no longer need to locate the item on the retailer's site to buy it, they simply click on the image and go right to the checkout. 
Can you try on every home decor product you see on Pinterest?
Not yet. Currently, this feature, which rolled out at the beginning of 2022, lets pinners see items from big retailers like: 
Walmart

Wayfair

CB2

Crate & Barrel

West Elm
There are about 80,000 shoppable pins right now, but the digital pinboard plans to add more as the feature gains popularity.
Is the try-on feature new to Pinterest?
Pinterest introduced the Try On feature on a smaller scale back in 2020. When the world was in quarantine, the social platform gave at-home shoppers the chance to try on different lipstick shades. Pinners simply snap a picture of themselves, shop lipstick colors they love and click 'Try On.' 
Big-name cosmetic brands participated, including Estée Lauder, Sephora, bareMinerals, Neutrogena, and L'Oreal brands NYX Professional Makeup, YSL Beauté, Lancôme, and Urban Decay.
If you like a lipstick, you can buy it. If it's not your color, additional suggestions are provided. If you're not ready to choose, you can save it for later. The Try On for Home Decor was introduced two years later.
Are there other "try on" features that exist?
Yes. Several retailers have launched their own "try on" features. 
Walmart has a try-on feature in beta testing
Walmart, for instance, is about to introduce try-on technology that lets shoppers choose a model that mimics their size and shape to see how clothes fit. 
When it's launched, shoppers can choose from 50 models of varying sizes and try on different outfits. The mega-retailer says using a predefined set of models provides more accurate details than letting customers upload their own images. Details like sleeve length, for instance, are more accurate and give the shopper a true-to-life visual.
Neiman Marcus uses AR to aid in visual searches
Neiman Marcus introduced a new feature to its mobile app, giving shoppers the ability to upload a picture of any item they like and search for matching or similar products in the store. The Snap.Find.Shop. feature is mainly used by a younger demographic that stays on top of fashion trends and wants to copy what they see on pop icons or friends.  
Zenni lets shoppers try on glasses
Back in 2019, online glasses retailer Zenni launched a try-on feature that shows consumers how they'll look in different glasses. The app takes several snaps of a person's face, including straight and side views, to show shoppers what a pair of specs looks like on their particular face. 
Garnier gives people the chance to try new hair colors
Want to color your hair but aren't sure which shade to pick? L'Oreal-owned brand Garnier can help. Simply upload your picture and see different color options on your own hair. The tool, mostly used by women, offers pre-purchase confidence that the brand says is often lacking when selecting DIY hair color. 
With a growing population of tech-savvy shoppers, more brands will likely adopt try-on features. While it has taken some time for virtual tools like this to come to fruition, many experts believe they're here to stay.