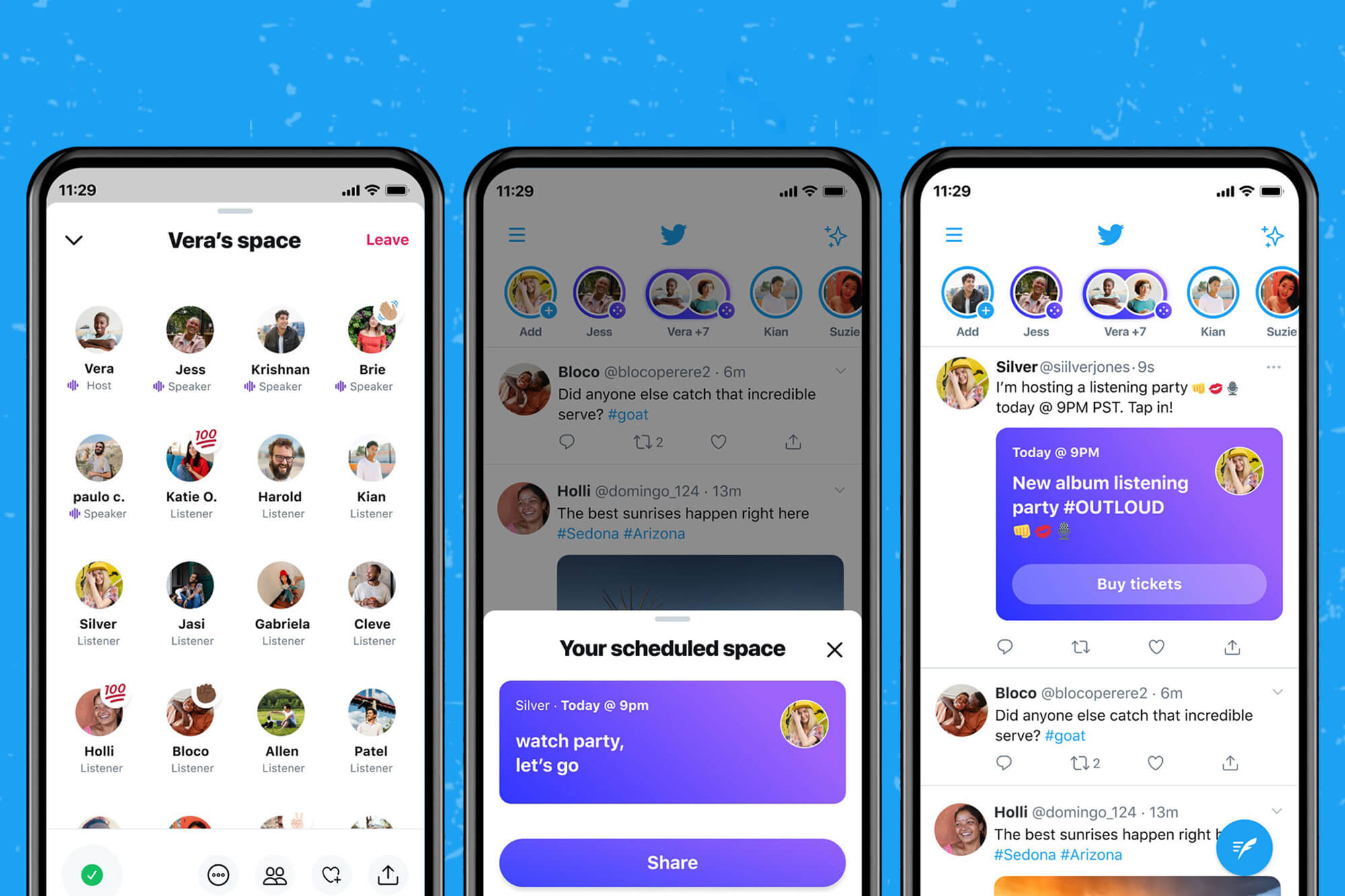 Among social media platforms used by marketers, Twitter has not typically been a major player. The platform's limited marketing and ad tools has seen it lag behind Instagram and Facebook in the eyes of marketing departments.
The addition of a new Twitter feature, however, has many companies reconsidering Twitter's power of influence. For what Twitter lacks, it does have 36 million daily users and an exceptionally diverse group of users from all over the world.
Twitter Spaces, a live audio "chat room" offers brands the opportunity to create content in a live setting and opens the possibilities for collaboration with other brands and influencers. Further, it allows a brand's audience to participate more intimately in real time and creates meaningful connections surrounding unique content.
Spaces is Twitter's answer to Clubhouse, a social audio app that predates Spaces. Twitter Spaces, however, is integrated into the Twitter app. It is mobile-only but could soon be offered on desktop.
How brands and influencers are using Twitter Spaces
Discuss trending topics on Twitter Spaces
Twitter Spaces presents an opportunity for your brand to share its expertise and gather fans and potential followers/customers in one place. The content you bring to the table can enhance your brand's image. Plus, subtle choices in presentation can drive home your individual branding. For example, you can choose to host your space by the brand's official account or choose a representative from your company to host the space and give things a more personal touch.
JST Investments, an India-based financial company, recently drummed up some conversation with a Twitter Space discussing personal finance. The brand doled out advice, but also took questions on personal finance mistakes and questions.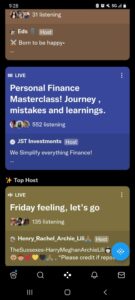 Another example of an interesting use of the platform comes from "The Fast and the Furious" movie franchise. This Space features a talk with the director of the new film, "F9: The Fast Saga." This use of the platform builds buzz around the new movie's launch. The exclusive experience hearing from the director got people tweeting about the event.
The new trailer is out and we know you have questions for @JustinLin and the cast including @VinDiesel, @MRodOfficial, @Ludacris, and @MissEmmanuel. Join them for a Twitter Spaces conversation at 9AM PT. Ask your questions here for a chance to get them answered when we go live! https://t.co/8w7VZ8rRQf

— #F9 (@TheFastSaga) April 14, 2021
More than typical content marketing, the live experience of the Space helps create a more intimate interaction with followers or potential customers.
Collaborate with others on Spaces
The presentation, discussion or question-and-answer possibilities presented by Spaces invite plenty of creativity. Inviting an influencer, expert or partner to speak on a Space offers listeners a unique experience.
Spaces is also a networking ground. The ability to hear another person's actual voice in real time is rare on social media. The only other place you can get that experience is Instagram Live. 
This Space features LinkedIn tips for diverse women with ideas for creating content. It is hosted by Bobby Umar, a speaker who has given TED Talks and focuses on personal branding and networking. This Space shows the capability of the platform to facilitate professional connections, and it is easy to see how these talks can lead to stronger branding for professionals and the companies they work for.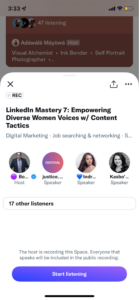 Ticketed Spaces
Twitter has also monetized Spaces, as the company announced toward the end of 2021. For an exclusive experience, your brand can charge anywhere for $1 to $999 for a "ticket" into the live audio experience.
Twitter is also testing clipping, which allows the host of a Space to clip a 30-second clip from a Space and share it to their timeline. As of right now, Spaces are not recorded or accessible after they end, so the latest change gives hosts some more ability to make the content from a Space have a little more shelf life.
While Twitter is often overlooked, or underused, as a marketing tool, Spaces has the potential to change that. More innovative updates like these could raise Twitter's importance among social media platforms for marketers.