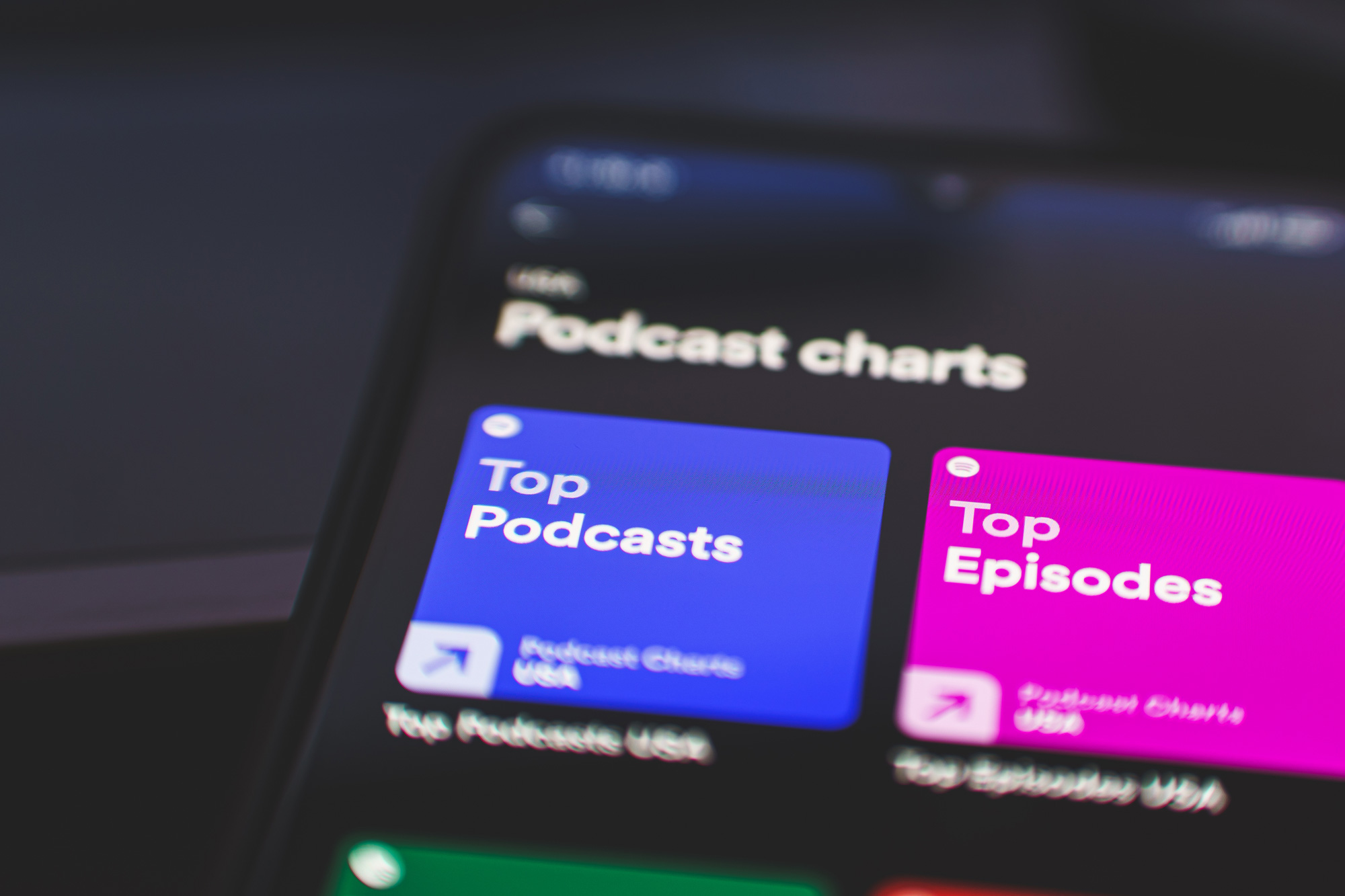 Some of the greatest innovations in content marketing these days are coming in the form of the influencer boom, social media e-commerce and the rise of short-form video. Another comes in the podcast space. Podcasts have skyrocketed in popularity over the past few years, and so has brand-centric content in podcast form. A brand's content can easily be transformed into any medium, and podcasts are increasingly the way to go when delivering your message to a large but targeted audience. Plus, podcasts create clearly carved-out audiences practically gift-wrapped for advertisers to reach.
Spotify, the most popular platform for podcasts, is making advertising via podcasts interactive. According to Insider Intelligence, Spotify is forecast to have $867 million in ad revenue in 2022.
Spotify adds clickable CTA cards
Have you ever heard an ad on your favorite podcast for a product that entices you to try it? Most likely, you made a mental note to check out that brand's website later, then completely forgot about it. Clickable CTA cards fix this problem.
The cards show up on the Spotify app as soon as a podcast ad begins playing. The user can click on the card to access the offer and learn more about the brand. Brands no longer need to depend on a busy listener to remember its URL or even its name. The card creates a more memorable experience, with an interested listener clicking and meaningfully interacting with the brand's product, identity and promotional offer.
People are often busy doing something else  — walking, driving, cooking or cleaning — while they listen to podcasts. This change allows advertising to become much more effective for audio content. 
Marketers will welcome this new feature for many reasons. One is that brands are no longer reliant on such a compelling message that a listener remembers its name and types in the brand's website URL on their own.
Secondly, tracking ad performance will be much easier. By the previous method of podcast advertising, activity could be tracked by measuring how many people use a particular promo code for a purchase. Now, brands could track click conversions, views and purchases. This ability to track ad performance might affect the amount of money podcast creators could make with their advertising too. Third, this feature adds a visual component to a user's experience with the brand that didn't exist before.
Podcasts are not just replacing talk radio; they are revolutionizing the concept. The market for podcasts has exploded in recent years, with the average amount of podcast listening time ballooning to 22.87 minutes per day, according to Insider Intelligence, up steadily over the past three years from 12.22 in 2019. You can find a podcast on virtually any topic, whether niche or mainstream, and podcasts can be a number of hours long or under 10 minutes, depending on the style or topic.
Spotify has edged out some of the competition, most notably Apple Podcasts, as the top podcast platform, with 32.5 million listeners vs. Apple's 28.5 million forecast in 2022, according to Insider Intelligence. Spotify continues to bolster its visual appeal, having added lyric cards and loop video accompaniment to some songs and albums.
Spotify also made another major innovation with video podcasting, which is being tested. Podcasters can upload video using a platform called Anchor, which Spotify owns. That project is still being tested and is open to a limited amount of creators, but it should be expected that Spotify could eventually integrate it into its app.
We know that podcasts often attract dedicated audiences who show acute interest in a particular topic or lifestyle. With the addition of clickable CTA cards to go along with ads, we are about to learn much more about the effectiveness of podcast advertising.
Spotify's recent implementation of CTA cards will make your brand more visible and accessible. As podcasting continues to grow with the amount of daily listeners, the medium is becoming even more efficient for marketers.