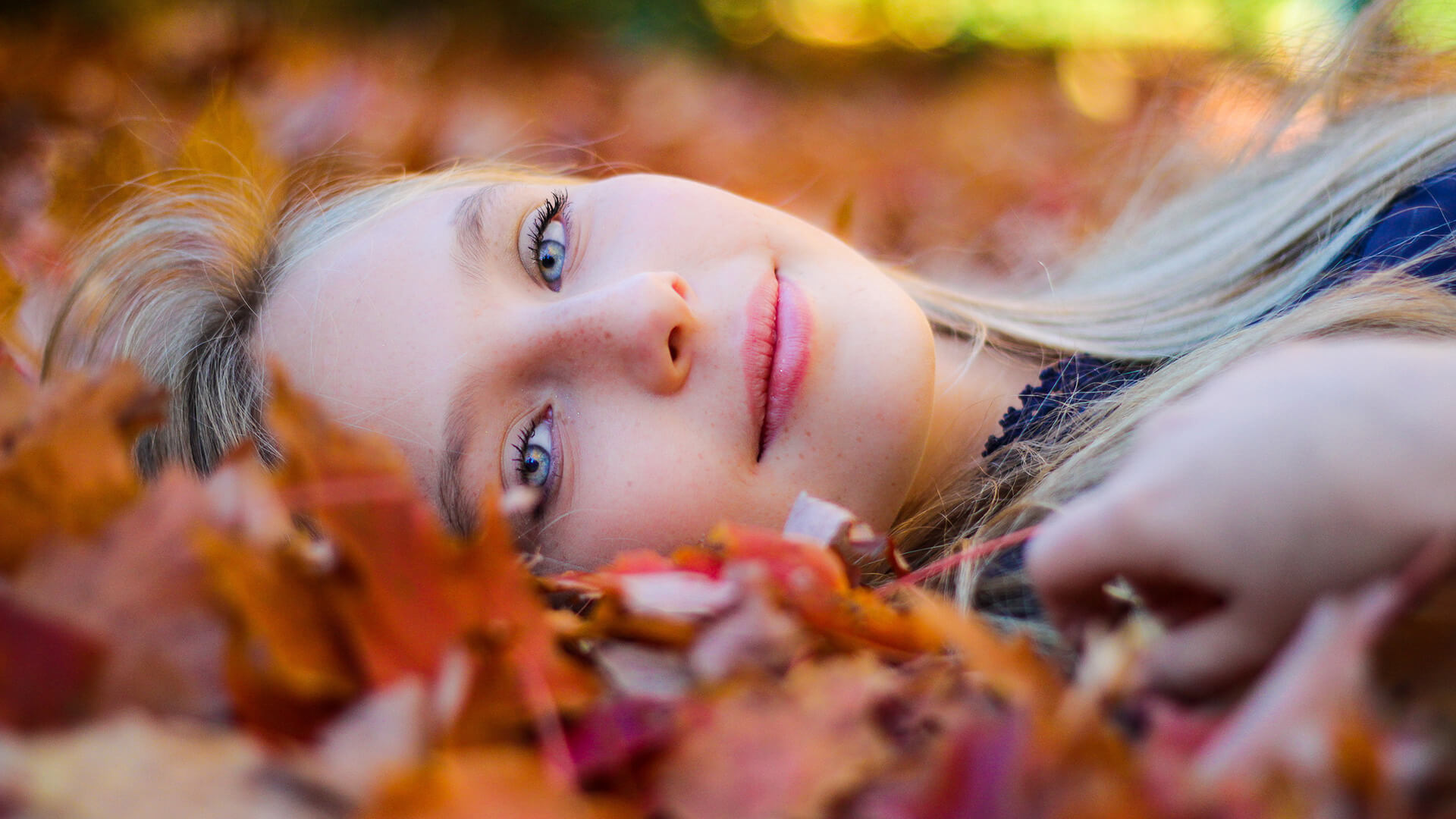 September 22 might be the first day of fall, but brands should be marketing their back-to-school, Halloween, and seasonal products long before then. By promoting autumnal-inspired goods early, companies can start laying the foundation to build on throughout the season when most campaigns compete for consumers' attention. These 10 fall content ideas can provide inspiration to launch fall-themed campaigns. Continue building on the momentum throughout the season and you'll have a leg up on the competition.
Showcase a behind-the-scenes fall prep
Last July, Yankee Candle offered consumers a sneak peek into its photography studio as the team focused on its fall scents. Viewers were asked, "Is it too early to be dreaming about fall?" Based on 871 likes, the answer was a resounding "no."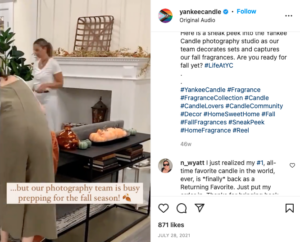 Consider doing something similar with your fall products. Show the fall inventory that you're planning to put out, offer a sneak peek at a fall event, or take a video of a new fall-inspired display.  
Highlight early orders
Artisan jewelry Magick in Metal was already shipping spooky-themed rings in June when it decided to build excitement around a fear of missing out. Focusing on its Halloween-inspired rings, the jewelry promoted that it was "almost caught up on orders" on Instagram.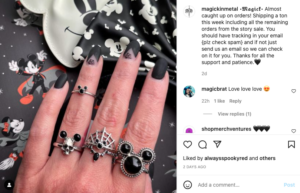 Start talking about your fall inventory a little early and showcase orders as they're going out. You can use FOMO (Fear of Missing Out) as a motivator or entice customers to make a purchase with an early bird promo code.
Promote an early countdown
There's no rule that limits countdowns to the 30 days before Halloween. Start a countdown weeks — or even months — before the first day by showcasing different items every Friday, for example. In July, "alternative crocheter" Kayla, who goes by Alt Knots on YouTube, did an early Halloween countdown unboxing to promote some of her favorite products from The Spinning Spider. 
You can countdown to Halloween, the Fall Equinox, the first day of school — you name it. Try to get your audience involved too with weekly product reveals or giveaways. 
Create a fall-inspired quiz
Fall lovers are a subculture in their own right and Starbucks knows how to tap into their seasonal emotions. In preparation of its pumpkin spice beverages, the coffee company introduced a Pumpkin Love O' Meter to "separate the pumpkin likers from the pumpkin lovers." The August 2021 Instagram post, which included a link to the quiz, garnered nearly 688K views.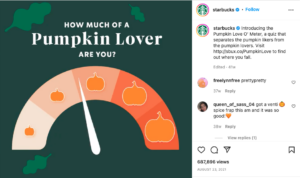 Quizzes are a great way to engage an audience. What kind of quiz or poll could you create around the products?
Partner with an influencer for a tutorial
When Tarte Cosmetics wanted to promote its makeup, it sponsored beauty macro-influencer Brianna Fox to create a "warm & cozy fall makeup tutorial." The company also provided her with a 15% off promo code to share with her 810K subscribers.
By working with influencers you can reach a new audience and promote your product in a natural way. 
Create a video teaser to build excitement
Disney is one of the biggest destinations in the world and the company knows its park visitors need time to plan. The company began promoting its Magic Kingdom Halloween event several months in advance. In April 2022, the brand's TikTok account promoted Mickey's Not So Scary Halloween Party, which runs Aug. 12 through Oct. 31, 2022, with a video teaser. 
If you're hosting an upcoming fall event, be it a customer appreciation sale, a charity event, or an Oktoberfest, a video teaser can help generate some buzz. 
Capitalize on a fall-inspired holiday
Halloween and Thanksgiving aren't the only fall holidays brands can capitalize on to promote their autumn-themed products, services, and events. There are opportunities to promote almost any product or service using a fall tie-in long before the season arrives. Think Pecan Pie Day (July), Book Lover's Day (August), National Beer Lover's Day (September), or Make a Hat Day (September).
Publisher Search Press used the hashtag "#BuildaScarecrowDay (first Sunday of July) with an image of a knitted scarecrow to promote one of its books, "Mini Knitted Farmyard," on Instagram.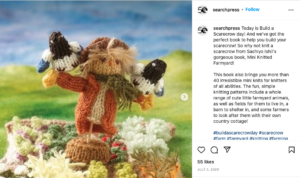 Create a back-to-school starter pack
HighKey Snacks showed moms on Instagram that it was in on the joke with its mid-August promotion. The brand's team created a funny but on-point "Back to School Starter Pack" meme that included not only its mini cookies, but also a comfy sweatshirt, the Netflix symbol, and a bottle of wine.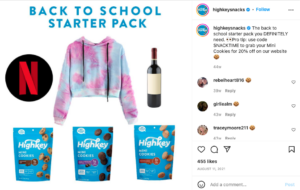 Consider grouping a few of your products together for a fun "back to school" package. Remember, school calendars vary. too. Some students return in August while others go back in September. Use the return date that makes the most sense for your brand.
Every brand can leverage the fall season with a little creativity. You don't need to sell sweaters or pumpkin spice lattes, with these ideas you can create fun and engaging content to promote any product or service.