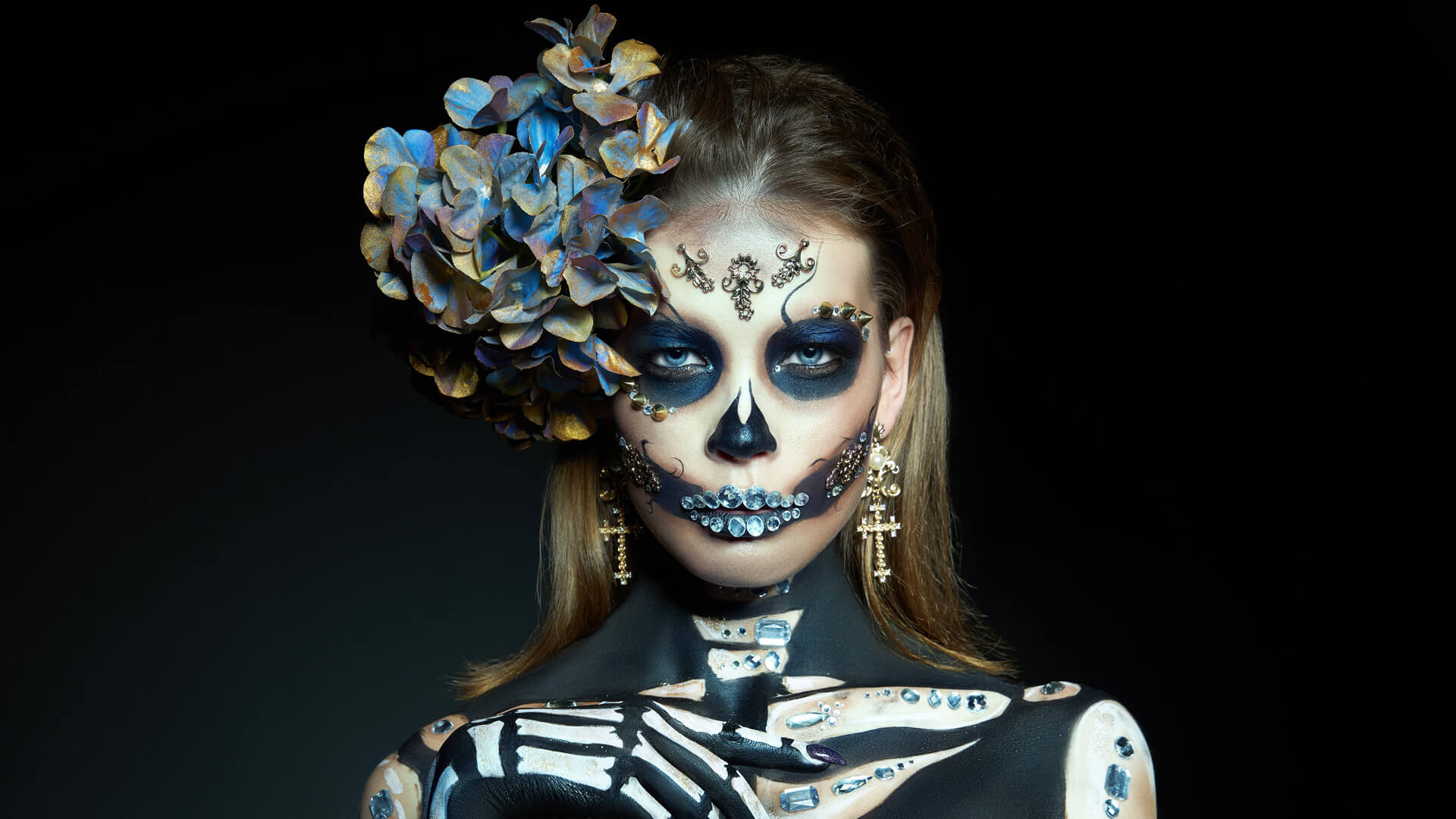 Brands that don't sell costumes, candy, or Halloween decor can feel like the spooky holiday is out of reach when it comes to marketing. But with a little creativity, it's possible to link your products or services to the October celebration. Use these Halloween content ideas to find a tie-in for your marketing in a way that comes across as natural, entertaining, and informative.
Highlight any orange or black products 
A splash of orange and black can represent the season on its own or paired with a well-placed pumpkin. Need an example? 
Extra Petite highlighted this orange swing jacket and black print skirt with the headline, "Not just for Halloween" on Pinterest. 
Launch a Halloween hashtag giveaway 
Everyone loves a chance to win something and this "spooktacular" hamper of Cloud 10 goodies was no exception. The brand promoted the collection on Halloween, asking entrants to follow Cloud 10 Beauty on Instagram, tag a friend, and have the friend follow them as well.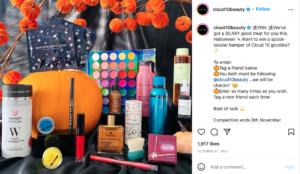 Partner with a "spooky" influencer
Halloween-focused influencers  have a niche audience that is often eager to spend money year-round on occult-inspired clothing, decor, and jewelry.
When multinational toy manufacturer and distributor Bandai wanted to promote its new Tamagotchi devices, it enlisted the help of self-proclaimed spooky influencer grav3yardgirl. 
The company sent her to Target for a Halloween adventure where she shopped for seasonal home decor and tried to track down the beloved toy. 
Sponsor a DIY video
Few holidays inspire crafters as much as Halloween. From cookies and decor to trick-or-treating containers and gift bags, there's plenty of room for creativity. 
If you're marketing for a store, product, or line of items, consider filming your own DIY videos or sponsoring an influencer who specializes in crafting to create one (or a series). 
Take a cue from the Dollar Tree, which regularly partners with influencers on YouTube to showcase its products through short video tutorials, especially around the holidays. This October 9 video by DIY Crafty Melissa featured step-by-step instructions to make last-minute Halloween crafts using Dollar Tree supplies. 
Put the spotlight on a product that glows in the dark
From jewelry and jump ropes to puzzles and shoes, almost any item can now be tweaked to glow in the dark. If you've got a product that lights up or glows, Halloween is the perfect time to shine a spotlight on it (literally and figuratively).
Circulo USA promoted its glow-in-the-dark yarn, Glow Yarn, with free downloadable patterns in October — including a glow-in-the-dark crochet skeleton —o n Instagram.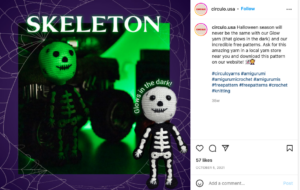 Create Halloween-themed recipes
Coca-Cola has a number of spooky-themed recipes that it promotes on social media, like these Fanta cake pops on Twitter on its own account. 
The company also compensates influencers to promote food and drink recipes that incorporate their products, like this Sprite-based Cauldron Cocktail Halloween Drink that A Table Full of Joy shared on Pinterest. 
Focus on Halloween makeup
Whether your target market is looking for pretty looks or something scarier, you can promote your brand by having an on-staff makeup artist create a series of looks, or partnering with an influencer who is known for their skills. This is also a great time to promote makeup removers, as Garnier did with their Waterproof Micellar Cleansing Water.
Share fall scents
When you think of Halloween, what flavors and scents come to mind? Whether you rep caramel apple candles, candy corn lip gloss, or pumpkin pecan waffle bath bombs, the lead-up to October 31 is a great time to market fall-focused products. 
Do an in-store shopping haul
If you represent a store that sells Halloween goods, it helps to send a shopper in for some recon. Also, guidance is welcome if you have particular items to promote, there's something to be said for an unscripted trip. 
Target shared Instagram influencer E.V. Dreadful's video from her local store in late September as she recorded herself wandering the aisles of Halloween-themed merchandise.
Hold a costume contest that reflects your brand
If you're a company with a well-known spokesperson, uniform, or mascot, post a call for photo or video submissions and share the user-generated content on your channels. 
Think overalls and waders from the Ocean Spray Cranberry Juice commercials, characters from Bob's Burgers, or Jake from State Farm. Progressive Insurance even shared a dog dressed up like its spokeswoman, Flo!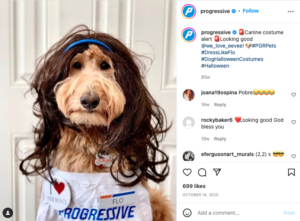 Your brand doesn't need to sell costumes or makeup to create a Halloween promotion. Use these tips to ensure your brand doesn't miss out on the holiday antics.